GOP's global warming rumble: Sarah Palin v. Arnold Schwarzenegger
The spat between California Gov. Arnold Schwarzenegger and former Alaska governor Sarah Palin over the Copenhagen climate talks highlights the GOP's divided views on global warming.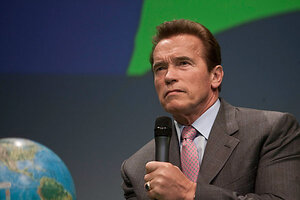 Anders Debel Hansen/Scanpix/Reuters
The Sarah Palin-Arnold Schwarzenegger clash over climate change pits two Republican stalwarts in a tiff that brings to the fore the divisions within the GOP on environmental policy and global warming.
It all began when the California governor questioned Ms. Palin's motivation for penning an op-ed article in The Washington Post that questions climate change science based on leaked e-mails from a leading research group. (Read more about the controversy over climate researchers' hacked e-mails here.)
In her Dec. 9 article, Ms. Palin criticized the Democrats cap-and-trade plan to limit greenhouse-gas emissions as a jobs killer and called on President Obama to boycott the Copenhagen climate talks, reflecting a skeptical view of global warming often seen in conservatives' Tea Party protests.
Mr. Schwarzenegger, a leading proponent of environmental policies to head off climate change, told the Financial Times: "You have to ask: what was she trying to accomplish? Is she really interested in this subject or is she interested in her career and in winning the nomination [for president]?"
---