Joe Lieberman 'out of tune' with Connecticut, but few complain
Sen. Joe Lieberman is refusing to vote for a healthcare public option – even though the Connecticut Legislature passed comprehensive healthcare reform this year. But poll data suggest the Nutmeg State won't abandon Lieberman.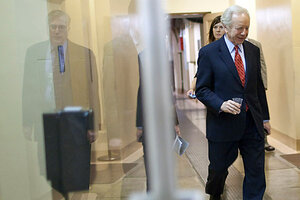 There is an irony in Sen. Joseph Lieberman's stalwart opposition to any form of a healthcare public option: The state he represents, Connecticut, approved a statewide public health insurance system with a public option this year.
Anger at Senator Lieberman's stance in some quarters of the state is such that state Rep. Rosa DeLauro declared that he "ought to be recalled."
In fact, Connecticut has no mechanism for recalling senators – and would be unlikely to recall Lieberman even if it did, says Douglas Schwartz, a pollster who has conducted surveys in Connecticut about Lieberman. Residents know that he "has already moved toward the right on a number of high profile issues," Dr. Schwartz says.
But there is little question that Lieberman is out of step with this state. Though Connecticut is not a liberal bastion like Washington, D.C., or Hawaii, it is a blue state that trends Democratic.
"I would expect that in 2012, a Democratic senatorial candidate running against Lieberman is going to make this a primary aspect of his or her campaign, and Democratic voters are going to be receptive to that sort of criticism," says Doug Foyle, a political scientist at Wesleyan University in Middletown, Conn., who puts the left-right split in Connecticut at 55 percent to 45 percent.
---