S.C. Gov. Mark Sanford is censured, but won't be impeached
A panel of lawmakers voted to rebuke South Carolina Gov. Mark Sanford for disgracing the office, but stopped short of impeachment. Sanford says he won't resign, vowing to fill out his term through 2010.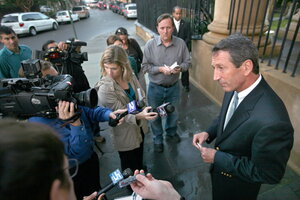 AP Photo/Mic Smith
A South Carolina House committee on Wednesday found that lies, hypocrisy, and abdication of duty by Gov. Mark Sanford did not amount to "serious misconduct" under the South Carolina Constitution. In effect, that ends a bid to impeach what one lawmaker called "the AWOL governor."
Instead, the House Judiciary Committee unanimously voted to censure the former Republican presidential hopeful for bringing "ridicule, dishonor, disgrace, and shame on the governor's office and the state of South Carolina." The full House and Senate have to approve the censure resolution.
Governor Sanford disappeared on June 18, only to reappear back in South Carolina on June 23. He had told staff he was hiking the Appalachian Trail, but instead he had turned off his cell phone and had flown to Buenos Aires to visit a mistress, Maria Chapur, whom he later called his "soul mate."
After ditching state agents responsible for his protection, Sanford had planned a 10-day trip away from Columbia, but returned after five days when he saw an item about his whereabouts on CNN, according to the committee.
"We didn't need subpoenas, there was never a factual dispute, the only question is: Is this serious misconduct or not?" said Rep. James Smith, who voted against impeachment.
'A culture of political complacency'
---