Biden to unveil broadband expansion projects to boost jobs
Vice President Biden goes to Georgia Thursday to announce $182 million in stimulus grants for increasing broadband access to homes and businesses in 17 states. A total of $2.5 billion of stimulus money has been set aside for broadband projects.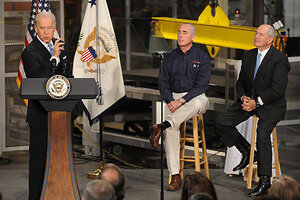 Erik S. Lesser/AP
In the late 1920s, the Republicans crowed about how their policies had put a "chicken in every pot."

The White House this week is dispatching Vice President Biden to southern Appalachia – the historic backdrop for economic hardship – to update that slogan to "a broadband connection in every home."

Mr. Biden will announce Thursday in Dawsonville, Ga., $182 million of American Recovery and Reinvestment Act grants to go to 18 so-called "middle-mile" broadband projects in 17 states. "Middle-mile" refers to the critical link between the Internet backbone network and the local servers that connect to households.

One project in north Georgia would mean broadband access for 42,000 households and 10,000 businesses, according to the White House, which has been under fire for lagging job numbers.

The result of the 18 projects could be "tens of thousands of jobs," said White House economic adviser Jared Bernstein in a conference call with reporters Wednesday night.
More broadband, more jobs?
---