Lawmakers' tough choice: curb the deficit or create new jobs?
President Obama has made a priority of tackling the US unemployment rate – now about 10 percent. But a new jobs program would add more to the soaring federal deficit.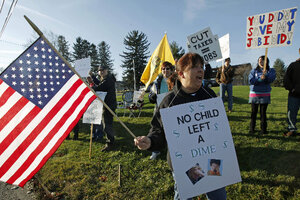 Matt Rourke/AP
President Obama invited more than 100 guests to his recent summit on job creation – from Nobel Prize economists to clean-energy entrepreneurs. But one "guest" showed up uninvited, in a manner of speaking: the Ghost of Deficits Future.
For years, elected officials have been able to support spending that exceeds tax revenue by a large amount. Many have done so even as they warned that corrective action will eventually be needed. Others have adopted the slogan "deficits don't matter," arguing that the country can either grow its way out of debt or keep on borrowing.
In the past year, though, America's fiscal compass has shifted toward discipline to a degree not seen since the 1990s. Now, even as Washington officials look to ease a 10 percent jobless rate, concern is rising – among lawmakers, the public, and some economists – that budgetary constraints are tightening and may limit the options.
Here are some signs of the times:
•Mr. Obama and fellow Democrats are rolling out a jobs proposal with careful framing on how to pay for it. Some $200 billion is available, they say, because the financial rescues of the Troubled Asset Relief Program are proving less expensive than forecast. Republicans counter that the TARP and any stimulus programs are being paid for by borrowing. It's a partisan squabble, but neither side is saying deficits don't matter.
---