Obama faces new global warming skeptic: Joe Sixpack
As President Obama returns from Copenhagen, polls show that Americans are becoming more more wary of his global warming agenda – and of global warming itself.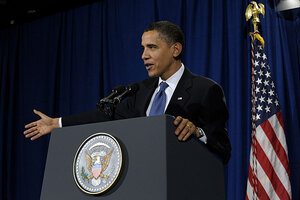 Susan Walsh/AP
Fresh from a global warming deal in Copenhagen, Denmark, President Obama returned to a cold, snowy Washington where the politics of global warming are slowly shifting underfoot.
Mr. Obama's Copenhagen promise to cut US emissions 17 percent from 2005 levels by 2020 will rely heavily on the cap-and-trade bill currently winding its way through the Senate. But a bill that was never going to be an easy sell has become even more fraught with potential complications during recent months.
Polls suggest that Americans have soured on Obama's climate strategy, and the "climategate" e-mail scandal has highlighted the public's increasing skepticism of the basic science driving some of the White House's most aggressive policy prescriptions.
Flagging support
A new ABC News-Washington Post poll shows that two-thirds of Americans still believe the federal government should regulate greenhouse gas emissions from sources like factories and cars.
But the polling also shows that the public is increasingly dissatisfied with the president's overall handling of the global warming issue. Support has slipped from 61 percent near the president's 100-day mark to 45 percent this week.
Obama's actions in Copenhagen are a case in point. For example, 57 percent of Americans polled oppose the president's proposal to provide $10 billion a year to subsidize emission cuts in developing countries.
---