Why has Congress set a Christmas deadline for healthcare reform?
If the debacle of August's healthcare reform town halls told Democrats anything, it was this: Don't send your legislators back to their districts without a bill to defend.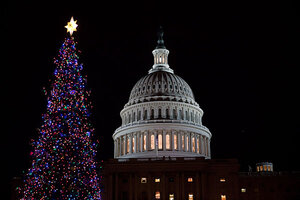 Evan Vucci/Ap/File
Until 8:30 a.m. on a snowy Saturday, few outside Senate majority leader Harry Reid's conference rooms knew exactly how he amended the $849 billion Senate healthcare bill in order to satisfy the nonpartisan Congressional Budget Office and the 60 senators needed to stop a potential Republican filibuster
Yet by 3:48 p.m. Saturday, Senator Reid had filed a key procedural amendment to end debate on the bill, with a formal voted scheduled for 1 a.m. Monday.
In those seven hours and 18 minutes, Senator Reid had finally won the 60th vote, with Sen. Ben Nelson (D) of Nebraska announcing his support, and Senate clerks had finished reading Reid's 383-page amendment aloud – a delaying tactic by minority Republicans.
Now, a bill that only days ago looked as likely to fail as succeed is on a fast track to pass by a self-imposed Christmas deadline.
But what is the rush to pass a bill that will impact one-sixth of the American economy?
House Speaker Nancy Pelosi told reporters Wednesday that not completing House and Senate bills before a break would be "very bad for the American people and very, very bad for us."
The prospect of losing momentum is what's driving Democrats to complete the bill even in the face of blizzards, late nights, and ruined holiday plans, says Ross Baker, a political scientist at Rutgers University in New Brunswick, N.J.
---