Health care bill 2009: what happens next
President Obama hailed a key vote in the health care bill Monday morning. Several more Senate votes remain before a potential conference committee could take up the legislation.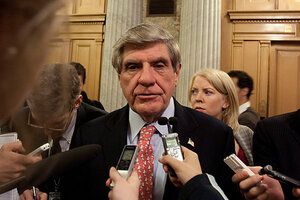 Harry Hamburg/AP
Healthcare reform is very close to becoming the law of the land. But if it passes the Senate, as now appears almost certain, it still will have one last summit to climb if it is to make it to the White House for President Obama's signature.
That final obstacle? It's a congressional conference committee, where the Senate bill must be harmonized with the version of health legislation approved by the House in November.
The conference could be acrimonious. There are major substantive differences between the Senate and House bills. There's natural rivalry between the chambers, plus the pride of individual lawmakers who have worked hard on the issue.
Given all this, a hard shove from the White House might be necessary if health reform is to make it over the top.
"We're going to have to call on the president to get us through to reconciliation," said Rep. Elijah Cummings (D) of Maryland in an interview on MSNBC Monday. "He's got to be on a day-to-day, hour-to-hour basis working with us."
Reveling in their apparent victory, Senate Democratic leaders said Monday that they were taking the process day by day.
"We'll worry about the next steps at a later time," said Senate majority leader Harry Reid at a Monday afternoon press conference.
---