Florida attorney general: healthcare reform unconstitutional?
Florida Attorney General Bill McCollum – a Republican running for governor – says a federal healthcare bill that forces everyone to buy health insurance or pay a penalty could be unconstitutional. If it passes, he is considering a legal challenge.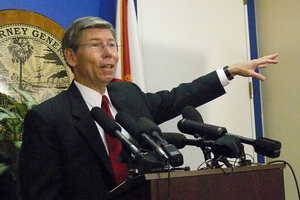 Bill Cotterell/Tallahassee Democrat/AP/file
The debate over healthcare reform moved into the legal realm Tuesday. Florida Attorney General Bill McCollum called for an investigation into the constitutionality of a congressional mandate that all Americans purchase health insurance or pay a tax penalty.
"I have grave concern about the constitutionality of this mandate," Mr. McCollum said. If passed and signed into law, the individual mandate portion of the healthcare legislation would mark the first time Congress has imposed a tax on individuals for essentially doing nothing, he said.
McCollum sent a letter on Tuesday inviting his fellow attorneys general to join his investigation. "I believe our analysis is needed in order to provide Congress our input, and more importantly to protect our states and citizens from a potentially unconstitutional federal mandate," he wrote in the letter.
The provision is a centerpiece of the healthcare bills currently pending in Congress. Conservative analysts have been debating the legality of the measure for months. Liberal analysts have dismissed these concerns as overblown and political posturing.
McCollum told reporters during a telephone conference call that it is "highly likely" the bill will become law, and that if it passes in its current form he would consider filing a constitutional challenge in court.
McCollum is running for governor
McCollum is a Republican candidate running for Florida governor in 2010. He denied that his efforts on the healthcare bill were politically motivated.
He said his aim was to protect the people of Florida. "I think it is a big thing," he said.
---