Calling it 'war', Obama pegs Christmas Day attack to Al Qaeda
Responding to critics of what is seen as his measured approach, Obama says the "nation is at war against a far-reaching network of violence and hatred." He calls for national unity.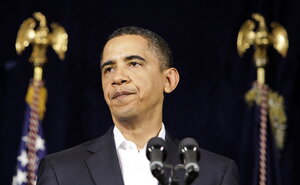 Alex Brandon/AP/file
In his first Saturday morning address of the New Year, President Obama acknowledged an international terror syndicate – Al Qaeda – has struck the US on his watch.

Coming after days of political acrimony that stood in sharp contrast to the national solidarity shown after 9/11, Mr. Obama said Saturday that a Yemeni affiliate of Al Qaeda trained the suspect and "equipped him with … explosives and directed him to attack [the plane] headed for America." He added that he thinks of the security of the US "every moment of every day."

The move does two things. Obama reframes the attack, in essence taking responsibility for the ability of Al Qaeda to maneuver past US airline security defenses. The President has ordered at least two investigations that are expected to report back within days. But the tougher language also addresses growing political unease with the President's careful approach to the conflict formerly known as the war on terror.
'This moment demands unity'
---