Exits of two senior senators mostly bad news for Democrats
Retirement of Sen. Byron Dorgan means it will be harder for Democrats to keep their filibuster-proof Senate majority after 2010. But the exit of Sen. Christopher Dodd improves Democrats' chances of holding onto his seat.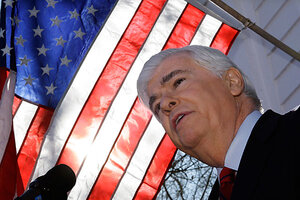 Charles Krupa/AP
Within a matter of hours, the Democrats have seen three key figures – two in Washington, one outside – turn themselves into lame ducks. Sens. Christopher Dodd of Connecticut and Byron Dorgan of North Dakota, and Gov. Bill Ritter of Colorado, have all announced they're not running for reelection.
That's mostly bad news for the Democrats, who just a year ago were riding high on the impending inauguration of Barack Obama and greatly expanded majorities in both houses of Congress. Now, the atmosphere has altered dramatically, as President Obama struggles to keep his job approval at or near 50 percent and his party works to minimize its losses in congressional races this November. Democrats can probably kiss their 60-seat, filibuster-proof Senate majority goodbye.
The one bright spot for Democrats is that Senator Dodd's seat in Connecticut now has an excellent shot at staying in Democratic hands, with the expected announcement Wednesday of popular state Attorney General Richard Blumenthal (D) that he will run for the seat. Until his announcement, Dodd was the most vulnerable Democratic incumbent of the cycle, owing to perceptions that he had lost touch with his home state. But as chairman of the Senate Banking Committee, Dodd will now spend the next year as a lame duck, which could hurt his clout in the battle for financial regulation reform.
---