Obama takes hands-on role in advancing healthcare reform
Obama has gathered congressional leaders to push through a healthcare reform bill. Democrats look for an end-run around the GOP by avoiding a House-Senate conference committee.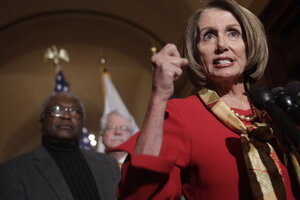 Pablo Martinez Monsivais/AP
The White House finally may be getting involved in the hard, gritty work of forging healthcare reform legislation, provision by provision.
To this point, the Obama administration has left much of the drafting-of-bill details to Congress, with officials setting broad goals for the effort while trying to avoid discussion about specific policies.
But for President Obama the new healthcare reform watchword appears to be "hands-on." On Wednesday, he was set to convene a second day of meetings with Democratic congressional leaders as part of the effort to resolve differences between House and Senate versions of health reform legislation.
"Without [Mr. Obama's] leadership, without his vision, without his encouragement, we would not be right on the verge right now of passing this historic legislation," said House Speaker Nancy Pelosi at a Tuesday press conference.
The White House meetings appear central to the Democrats' strategy of bypassing the usual negotiations between the two chambers, in the interests of speed and avoiding Republican influence.
Civics textbooks say this reconciliation of different bill versions should be done via a formal conference committee between the chambers, with members appointed by House and Senate leaders.
Can lawmakers just, well, sort of clap their hands and ignore this requirement, which is written in chamber rules?
---