Sarah Palin will headline first-ever Tea Party Convention
Sarah Palin's appearance is a coup for a movement now getting grudging respect from mainstream commentators. But will the feisty Tea Party movement coalesce with the GOP's old guard?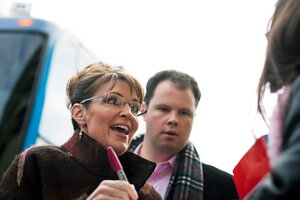 Shawn Gust/The Coeur d'Alene Press/AP
Almost 1-1/2 years since she shook up American politics with her acceptance speech at the Republican National Convention, former vice presidential candidate Sarah Palin is set to headline another landmark political event: the first-ever Tea Party Convention next month in Nashville, Tenn.

On its face, the gig would seem a step down for Ms. Palin, one of conservative America's most popular and polarizing figures (not to mention major thorn in the side of the Obama White House).

But with an NBC/Wall Street Journal poll ranking a generic "Tea Party" as more popular than either Democrats or Republicans, and Palin herself rivaling the charming Mr. Obama in poll popularity, many experts see the Tea Party event as a potential milestone for a mounting, even transformational, force in US politics.

"[W]ith two wars, a continuing terror threat, huge federal deficits, and a major healthcare overhaul in the works, there is no shortage of disaffection out there … and that could prove to be political dynamite," writes the Washington Post's Howard Kurtz. Against that backdrop, writes Mr. Kurtz, "The tea types can either blossom into a Perotista-style third-party movement or be subsumed to some degree by the GOP."
---
Follow Stories Like This
Get the Monitor stories you care about delivered to your inbox.