GOP is wait-and-see on Obama's terrorist intelligence plan
Republicans generally approve of Obama's plan to improve terrorist intelligence after the Christmas Day airliner bombing attempt. But they suggest more should be done, and hearings will give them a chance to say so.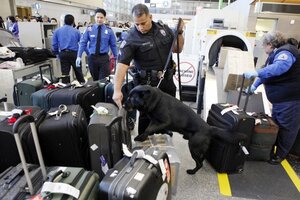 Damian Dovarganes/AP/file
President Obama's moves to try to improve US airline security are well and good – but it took him too long to make them, and there is more he could do to try to protect the American homeland.
That's the initial reaction from some key Republicans to Mr. Obama's Thursday speech on the administration's review of the Christmas Day attempted bombing of a Detroit-bound airliner.
"I … couldn't really object to anything he said. You could object to the fact that he's waited two weeks to say it," said former New York City mayor and GOP presidential candidate Rudolph Giuliani during a Friday appearance on MSNBC.
On Thursday, Obama said he has ordered US intelligence agencies to do a better job of sorting out serious terrorist threats from the vast amount of information they gather.
The president did not fire anyone, although his administration's review of the incident harshly criticized both the CIA and the Counterterrorism Center for failing to recognize that alleged terrorist Umar Farouk Abdulmutallab posed an imminent danger to the US.
---