How is Obama doing with black voters?
Black voters were a key part of Obama's election in 2008. But now some African-American leaders are criticizing him for not doing enough.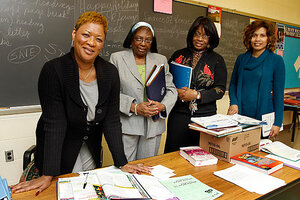 John Smierciak/AP
When Barack Obama became president nearly a year ago, he took on a mountain of problems: an economy on the brink of collapse, two foreign wars, a persistent threat of terrorism on US soil.
But perhaps the most delicate challenge he faced – and still faces – centers on his own identity as America's first black president. His election represented a major milestone, but certainly not an endpoint, in one of the core narratives of the American story: the battle for racial equality.
Now, embedded in the color of President Obama's skin lie the aspirations of African- Americans, many (or most) of whom see his ascendancy to the Oval Office as a signal opportunity for Washington to tackle the persistent racial disparities in unemployment, poverty, access to healthcare, and educational performance.
In a way, Obama was bound to disappoint. Having run for president as a "postracial" candidate, touching on race only when necessary to appeal to the widest audience possible, Obama predictably has run his presidency the same way.
But that has not stopped some black leaders from voicing chagrin. The Rev. Jesse Jackson has said it's time for civil rights leaders to start pressuring Obama.
---