Will Republican Scott Brown take Ted Kennedy's Senate seat?
The race between Martha Coakley and Scott Brown to fill Ted Kennedy's Senate seat is proving difficult to project. One poll says the race is tied.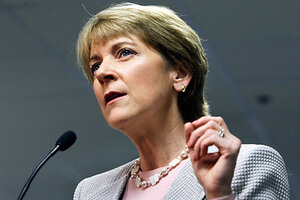 Elise Amendola/AP
A Senate race in Massachusetts should be an easy election to call: Democrats outnumber Republicans 3 to 1 in the state, and Massachusetts hasn't sent a Republican to the Senate since it reelected Sen. Edward Brooke in 1972.
But the Jan. 19 special election to replace Sen. Edward Kennedy is proving to be a difficult one to project. Attorney General Martha Coakley (D), widely favored coming out of the Dec. 8 primary, has found state Sen. Scott Brown (R) a more formidable challenger than expected.
While Massachusetts is generally considered one of the bluest states in America, it also has more independents than Democrats and Republicans combined. Moreover, the timing of the election makes voter turnout hard to predict. Voters aren't as accustomed to participating in a non-November election, and January's bitter weather could keep them away from the polls.
Historically, special elections have tended to produce low voter turnout.
"Crazy stuff can happen in special elections," says Tom Jensen, director of Public Policy Polling in Raleigh, N.C., which surveyed Massachusetts voters on the race.
---