Financial Crisis Inquiry Commission: Top bankers contrite, sort of
At the first hearing of the Financial Crisis Inquiry Commission on Wednesday, top Wall Street executives acknowledge banks' role in the 2008 financial crisis but defend fat paychecks for employees.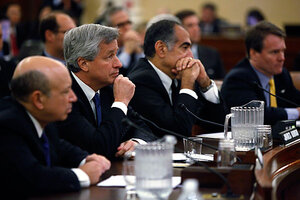 Jason Reed/Reuters
As Financial Crisis Inquiry Commission hearings opened on Wednesday, the message delivered by Wall Street executives to panel members might be summed up as this: "Gee, we're sorry that we maybe contributed to last year's financial meltdown. But what's all this about bankers making too much money?"
The Financial Crisis Inquiry Commission is a bipartisan 10-member committee that's been handed the job of recording what went wrong prior to the near-collapse of the world financial systems in 2008.
Congress has ordered the commission to work through some 22 different topics dealing with the meltdown, from the effects of monetary policy to the possible problems of Wall Street pay.
At the commission's first hearing on Wednesday, leaders of some of America's biggest banks were generally contrite about their role in the 2008 events.
"Over the course of the crisis we as an industry caused a lot of damage," said Brian Moynihan, chief executive of Bank of America.
Generally speaking, though, they were contrite only to a point.
Testy exchange over 'shorting' securities
In Wednesday morning's testiest exchange, commission chairman Phil Angelides, a Democrat and former California state treasurer, pressed Lloyd Blankfein, head of Goldman Sachs, about one particular financial practice.
---