Obama rallies worried Democrats on healthcare reform
Just back from their congressional districts, Democrats are nervous about riling voters on healthcare reform legislation. But Obama says once people know the details, they'll back it.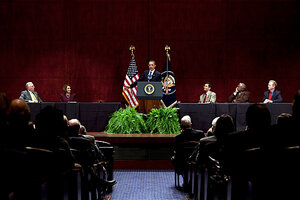 Evan Vucci/AP
With approval ratings for Democrats tumbling, President Obama called on the House majority caucus to look beyond the politics of the moment and fight for healthcare reform.
On a visit to the Capitol Thursday evening, the president told the House Democratic caucus that he understands "the pain and anxiety and sometimes anger" that voters are feeling.
"Now, believe me, I know how big a lift this has been. I see the polls," he said. But once voters see the bill signed into law, "the American people will suddenly learn that this bill does things they like and doesn't do things that people have been trying to say it does."
Midterm prospects
Unlike senators, House members must face voters every two years, and the prospects for midterm elections are shaky – especially for the 48 Democrats in districts where the GOP's presidential standardbearer, John McCain, won in 2008.
Mr. Obama spent much of Wednesday working with Democratic leaders on a compromise deal for healthcare. Late on Thursday, Democrats said they were almost there. "We're on the brink of passing healthcare reform," said House Speaker Nancy Pelosi, after the caucus meeting with the president.
---