Obama in Boston: Was it enough to turn Senate race for Coakley?
President Obama brought the energy from his 2008 campaign to Boston Sunday in a rally for Democrat Martha Coakley. She's locked in a tight race with Scott Brown to succeed the late Ted Kennedy in the US Senate.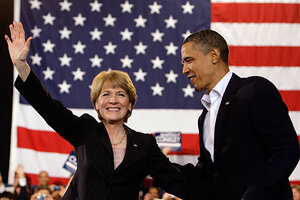 Alex Brandon/AP
With only two days left in the race for Massachusetts' open US Senate seat, President Obama delivered exactly what Democratic candidate Martha Coakley was hoping for: the potential for a momentum shift.
In recent weeks, Republican Scott Brown had turned the race toward the economic issues that are angering so many voters: high unemployment numbers, worries about healthcare reform, and the soaring federal deficit.
His success has imperiled Mr. Obama's agenda. If he wins – and weekend polls showed the race even – the Democrats will lose their filibuster-proof 60-seat majority in the Senate.
Led by Obama Sunday, Ms. Coakley tried to turn the voters' anger on its head. The frustration was justified, they said, but it was misplaced.

"We have had one year to make up for eight," a dressed down Obama told the crowd, referencing the eight years of the Bush administration. "It hasn't been quick, it hasn't been easy.... But we've begun to deliver on the change you voted for."
It was his exhortation to motivate Democrats and independents with sour memories of the Bush years: "We don't want to go backwards to the policies that got us into this mess in the first place," he said.
Coakley the 'incumbent'
It was also a clear attempt to change how Massachusetts voters view Coakley.
---
Follow Stories Like This
Get the Monitor stories you care about delivered to your inbox.