Congress's early task: What to do about national debt ceiling?
A vote to raise the national debt ceiling is always tough, because it casts the majority party as a reckless spender. But Congress must confront the issue, probably Jan. 20, upon lawmakers' return from recess. If the ceiling is not raised, the government will likely run out of funds in February.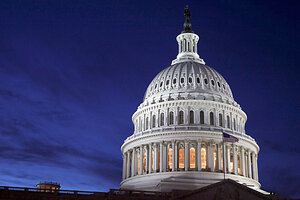 Larry Downing / Reuters
Congress returns to a massive agenda in the new year – healthcare, a job-creation plan, financial regulation, global warming, and probes of the Christmas Day bombing attempt. But its first order of business is making sure the government can pay its bills.
Unlike state and local governments, Washington can print money. Problem solved? Not likely. Thanks to war-bond legislation in 1917, Congress has to set a statutory limit for the national debt and must vote to raise it before that limit is exceeded.
Since 1917, it's been one of the toughest votes on Capitol Hill, because it tends to cast the majority party as a reckless spender.
"Debt ceilings have become political footballs and will continue to be in this highly politicized Congress, where making the other side lose is more important than governing," says Stanley Collender, a longtime congressional budget analyst at Qorvis Communications in Washington.
A steady rise for the debt limit
In 1995, newly empowered House Republicans pushed the Clinton administration to two government shutdowns over a vote to raise the debt limit. The GOP majority backed down in 1996 and voted to raise the federal debt limit to a then-whopping $5.5 trillion.
With Republican support, President Bush raised the debt limit by more than $6.4 trillion in his eight years in office. Since July 2008, Congress has bumped up the limit by more than $2.5 trillion, mainly to fund programs to deal with the financial crisis.
---