Massachusetts election: Brown, Coakley try to get out the vote
Martha Coakley arguably has a more extensive get-out-the-vote-operation than Scott Brown does. But in recent surveys of the Massachusetts election, Coakley is trailing Brown.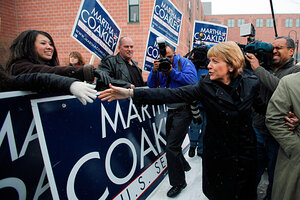 Brian Snyder/REUTERS
After over four months of campaigning, the Senate candidates in the Massachusetts election now await the outcome of the vote Tuesday.
The only thing left for them to do: get voters to the polls.
Special elections typically have low voter turnout, but this time, polling places are likely to be busier because of all the national attention and the closeness of the race. Anywhere from 1.6 million to 2.2 million of the state's 4.1 million registered voters are expected to cast ballots, according to estimates released by William Galvin, Massachusetts' Secretary of State.
Turnout of the state's 2.4 million independent voters is expected to be crucial to the race's outcome. While Democrats outnumber Republicans 3 to 1 in the Bay State, independents are the majority – 51 percent – of voters. Polling suggests that independents favor Scott Brown, the Republican candidate, but they are historically less likely to vote than those affiliated with a political party.
Martha Coakley, the Democratic candidate, arguably has a more extensive get-out-the-vote-operation than Mr. Brown does. For Tuesday, she has some 50 phone banks scheduled, in which people call voters and urge them to get to the polls. And she has more than 6,000 volunteers working on her campaign, The New York Times reports.
---