Massachusetts Senate race results: Obama's signal that all is changed
Republican Scott Brown's upset victory in the Massachusetts Senate race results portends huge challenges ahead for President Obama and majority Democrats. National healthcare reform may well stall, and new carbon-emissions rules are now unlikely. What will be the revised agenda?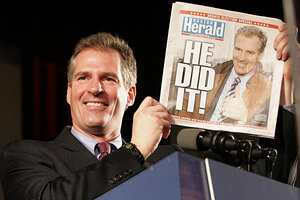 Matthew Healey/UPI/Newscom
For President Obama, Republican Scott Brown's victory in the Massachusetts Senate race changes everything.
OK, that may be an exaggeration. ­The GOP's triumph in a blue state may not change everything so much as reveal that everything has changed since Mr. Obama was inaugurated one long year ago.
Since then, the economy has continued to struggle, while unemployment has risen into the double digits. Meanwhile, voters have watched as financial and auto firms got bailed out and bankers continued to award themselves fat bonus packages.
The voters wanted change in 2008, and what they've got so far has been change they don't like.
"I have no interest in sugarcoating what happened in Massachusetts," said Sen. Robert Menendez (D) of New Jersey, head of the Senate Democrats' campaign committee. "There is a lot of anxiety in the country right now. Americans are understandably impatient."
The future of the Obama administration's agenda now has become much less certain.
---