Scott Brown offered change to Massachusetts. Sound familiar?
The election of Republican Scott Brown is an indication that voters in Massachusetts – and perhaps nationwide – feel President Obama has not yet been able to deliver the change he promised in 2008.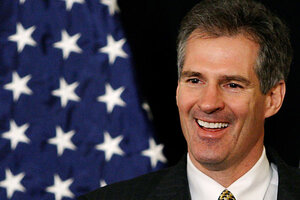 Charles Krupa/AP
American voters still haven't found the change that they're looking for.
That may be the national message delivered Tuesday by citizens of Massachusetts in their stunning election of Republican Scott Brown to the Senate seat held for nearly 50 years by Democratic icon Edward Kennedy.
Barack Obama promised national political change when he was elected 15 months ago, but since then the economy has struggled and unemployment has soared, while financial and auto firms got bailed out and bankers continued to award themselves fat bonuses.
Given all this, voters appear to be still boiling about Washington's status quo. And now that status quo is represented by President Obama and the Democrats, not George Bush.
"The implications from Massachusetts are very national," says Allan Lichtman, a professor of political history at American University. "Clearly voters wanted to send a message to Washington about how little they perceive is being done on behalf of average Americans."
---