Scott Brown's Massachusetts win fueled by independent voters
In 2008, most independent voters went for Obama. But Scott Brown's US Senate victory in Massachusetts shows that, even in a liberal state, independents won't necessarily stick with him.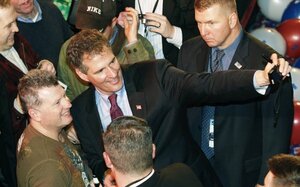 Robert F. Bukaty/AP
If President Obama woke up Wednesday morning reeling from the outcome of the Senate race in Massachusetts and re-evaluating his agenda, voters in Massachusetts – especially the 2.1 million not enrolled in any party – got exactly what they wanted.
In a stunning political upset Tuesday, state Sen. Scott Brown (R), little known before the race, defeated the state's Attorney General Martha Coakley (D) to replace Sen. Edward Kennedy in the US Senate.
But while Mr. Brown's margin of victory was a modest 5 points (52 percent to 47 percent), the message to Mr. Obama and Democrats was clear: independents don't feel bound to the president just because they voted him into office.
Just more than a year ago, Obama won 57 percent of the independent vote in Massachusetts and 52 percent nationally, according to exit polling. Democrats across the country were euphoric and political analysts predicted a long, slow recovery for the Republican Party.
But that was then.
---