Scott Brown's victory: Back to square one on healthcare reform?
Senator-elect Scott Brown of Massachusetts could provide the 41st Republican vote necessary to block a healthcare reform bill. Moderates of both parties say it's time to start over with a broad, bipartisan strategy.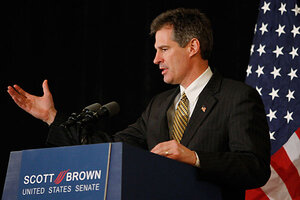 Robert F. Bukaty/AP
In the wake of Hurricane Scott Brown, centrists on both sides of the aisle are calling for a pause in the rush to complete healthcare reform.
For some, like Sen. Jim Webb (D) of Virginia, it's a pause long enough to seat Republican Senator-elect Scott Brown, whose upset victory in Tuesday's Massachusetts vote stunned Capitol Hill.
Calling the race "a referendum not only on healthcare reform but also on the openness and integrity of our government process," Senator Webb said Democrats need to hold off on further action until Brown is formally sworn in to the chamber.
'Suspend further votes on healthcare'
"It is vital that we restore the respect of the American people in our system of government and in our leaders. To that end, I believe it would only be fair and prudent that we suspend further votes on healthcare legislation until Senator-elect Brown is seated," he said.
But other moderates say that the lesson from the Bay State vote runs deeper than who is the 60th Senate vote – it's a repudiation of the partisan business as usual on Capitol Hill. On Tuesday, Sens. Evan Bayh (D) of Indiana – the lone Democrat to vote against raising the debt limit last
December – and Sen. Joseph Lieberman (I) of Connecticut called for Democrats to shift their agenda back to the center.
---