How much would Obama's spending freeze trim US deficits? Not a lot.
President Obama's spending freeze proposal, outlined Tuesday, would apply to only about one-sixth of the federal budget. But at least it would be a first step, say some budget experts.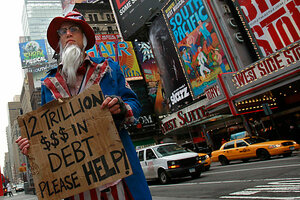 Brendan McDermid/Reuters
President Obama's plan to freeze spending on many domestic government programs for three years would have only a modest effect on huge US budget deficits.
That's because the proposal would apply to only about one-sixth of the federal budget. Defense spending would be exempt, as would foreign aid, homeland security, and huge entitlement programs such as Medicare and Medicaid.
But even the longest journeys begin with a single step, and that makes the effort worth considering, say some budget experts.
"The president is sending a message here: 'I'm willing to do something on deficit reduction,' " says Stan Collender, a former staffer for congressional budget committees who is now managing director at Qorvis Communications.
On Tuesday administration officials announced that Mr. Obama, in his upcoming State of the Union address, would push a nondefense discretionary spending freeze. Congress would have to approve the measure as part of its annual budget and appropriations process.
---