Obama to propose $33 billion in tax credits for employers
On Friday, Obama is set to announce tax credits for employers, with the aim of encouraging businesses to hire. Congress would have to vote on the proposal.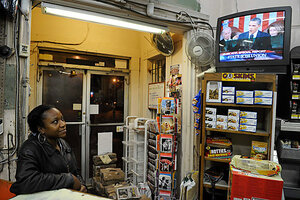 Cliff Owen/AP
On Friday in Baltimore, President Obama will aim to jump-start job creation among small businesses with a new $33 billion program of tax credits.
Mr. Obama's proposal, which Congress must vote upon, would give any company – large or small – a $5,000 tax credit for every net new employee it hired this year. Also, if a company's total payroll grows faster than inflation (even because of pay raises), the employer would get reimbursed – in the form of a tax credit – for the added Social Security payroll taxes.
The benefits per firm would be capped at $500,000 – meaning that these measures would make the most difference for small businesses.
"This is meant to be a little bit like the 'cash for clunkers' program – to give an extra incentive to go out and hire, take someone where you were going to sit on the sidelines for another six months, and do it now," said a senior administration official on Thursday, who spoke on condition of anonymity.
The two programs, if enacted by Congress, would cut taxes for 1 million small businesses, the US Treasury estimates.
---