State of the Union: Obama urges bipartisanship, can he deliver?
President Obama's State of the Union speech emphasized cooperation and policies favored by both Republicans and Democrats, but offered no solutions for breaking partisan gridlock in Congress.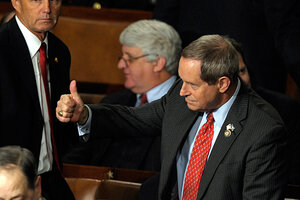 Susan Walsh/AP
In a State of the Union address with a Clintonesque range of policy initiatives, lawmakers on both sides of the aisle in Congress found moments to cheer:
"Jobs must be our number one focus in 2010." Check. "We will double our exports over the next five year." Check. "I do not accept second place for the United States of America." Check. "In the 21st century, one of the best anti-poverty programs is a world-class education." Check.

Republicans also leapt to their feet at President Obama's call to build "a new generation of safe, clean nuclear power plants in this country" and make "tough decisions about opening new offshore areas for oil and gas development."

But the key to moving policy on Capitol Hill, especially after Massachusetts voters last week gave Senate Republicans the 41st vote to sustain a filibuster, is breaking partisan gridlock.

"What the American people hope – what they deserve – is for all of us, Democrats and Republicans, to work through our differences; to overcome the numbing weight of our politics," the president said.

But he offered no new template for achieving that outcome, beyond the promise of monthly meetings with leaders of both parties and more common sense. "Rather than fight the same tired battles that have dominated Washington for decades, it's time to try something new. Let's try common sense," he said.

Republicans countered that it's not common sense to ask for bipartisanship, then lambast the opposition. "He did not help himself with Republicans," said Sen. Jon Kyl (R) of Arizona, the minority whip. "You don't bash the opposition and then expect cooperation."
---
Follow Stories Like This
Get the Monitor stories you care about delivered to your inbox.