Amid skepticism, Obama reaches out to Republicans
President Obama will meet Friday with House Republicans during their annual retreat. It's a symbolic display of bipartianship, but will it make a difference?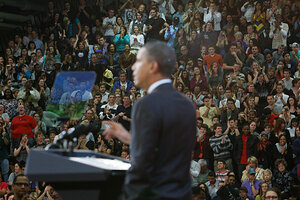 Charles Dharapak/AP
A day after President Obama's first State of the Union address, members of Congress were pretty pessimistic about the president's call for more bipartisanship.
After all, some have pointed out, if he was serious about not "relitigating the past," as Mr. Obama himself put it, why did he do precisely that – reminding his audience that the messes he is still grappling with (severe recession, a near collapse of the financial system, two wars, deep debt) were in place when he took office. He didn't need to point out that it was a Republican president, George W. Bush, who bequeathed him these problems.
But Obama is pressing on, heading off to Baltimore on Friday to talk jobs and then drop by the House Republicans' annual retreat, where he will make a speech and answer questions privately. Even if nothing comes of the interaction, he's not wasting his time, some analysts say.
"It is a visible, symbolically important display of his willingness to reach out," says Bruce Buchanan, a political scientist at the University of Texas, Austin. "I think that does matter to some people, especially those who are fed up with polarization and the snarkiness of the debate sometimes."
---