Illinois primary: GOP jockeys to make gains in Obama's home state
Obama's former Senate seat and the governor's office are up for grabs in 2010. The GOP is likely to emerge from the Illinois primary on Tuesday with candidates who can compete well in this blue state.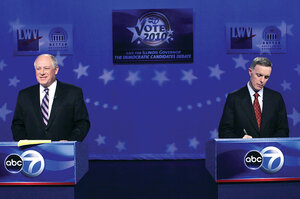 Charles Rex Arbogast / AP
Illinois voters head to the polls Feb. 2 with an eye to replacing two tarnished officeholders: ex-Gov. Rod Blagojevich, indicted on federal corruption charges, and Sen. Roland Burris (D), named by Mr. Blagojevich to fill President Obama's Senate seat in a process many see as tainted.
The primary election, the nation's first in the 2010 season, will yield a clearer picture of Republicans' chances of stealing these two seats from Democrats in a state that is reliably "blue."
Heading into the primary, which last year was moved up to February, voters are sorting through a profusion of candidates on both sides and in both contests.
"Reform is on everyone's mind. All of the candidate forums [and] debates, and most of the interviews, have put ... good government front and center, and candidates are being forced to answer questions" about the issue, says Andy Shaw of the Better Government Association, a watchdog group that has battled corruption in the state. "The bad news is that we're likely to see one of the lowest primary turnouts ever because it's so early.... We may not end up with our best candidates because of this peculiar anomaly."
In both parties, the race for the governor's seat has narrowed. Democratic Party candidates Gov. Pat Quinn and state Comptroller Dan Hynes are neck and neck, according to recent polls.
---