Obama budget wouldn't trim trillion-dollar deficits until 2012
President Obama faces a tough challenge in his budget: cutting the federal deficit while pumping up the economy. His budget pays for $33 billion in business tax cuts and $25 billion of aid to states through a spending freeze and reinstated taxes on wealthy Americans.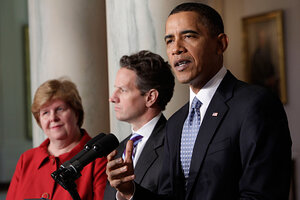 Pablo Martinez Monsivais/AP
President Obama's proposed $3.83 trillion 2011 budget is intended to hit a centrist fiscal sweet spot. It is meant to contain enough spending to cushion high unemployment and enough fiscal rigor to reduce long-term federal deficits.
That's the way administration officials describe the plan, anyway. Republicans insist it is a big-spending scheme that does not make the tough cuts necessary to keep deficits in check.
It is true that there is an inherent tension in trying to rein in budget deficits during a recession, say some fiscal experts.
But there is nothing inconsistent about combining short-term stimulus with long-term fiscal rigor, says Diane Lim Rogers, chief economist for The Concord Coalition, a group which supports efforts to reduce the federal deficit.
Such an apparently contradictory combination "is precisely what current circumstances call for," says Ms. Rogers. "A contrary strategy – concentrating on stimulus or deficit reduction alone without regard to timing – would carry a higher risk for the economy."
Austerity and stimulus
Mr. Obama's new budget preaches austerity, but it also focuses on helping to revive the economy, as he vowed to do in his State of the Union address.
To address the jobs problem, the budget offers tax cuts for businesses (including a $5,000 tax credit for hiring new workers), more help for the unemployed, and a $25 billion injection of cash for state governments.
These measures would take effect this year and boost the deficit by $245 billion during 2010 and 2011.
---