Obama's federal budget: What's in it for cities?
President Obama's federal budget includes proposals to increase housing assistance and boost programs that help low-income Americans. That's good news for cities.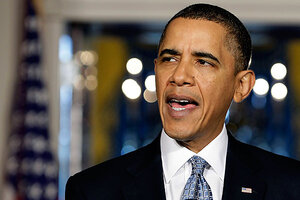 J. Scott Applewhite/AP
In President Obama's fiscal 2011 budget proposal, the nation's cities are winners.
Most will not see any significant cuts in programs that help their poor residents. In fact, many of those programs, such as housing rental assistance, will actually see an increase in funding. And with an extra $100 billion proposed for additional economic stimulus, some cities may be able to restart local programs that have run out of funding.
"[T]here is a lot that cities will benefit from," says James Horney, director of federal fiscal policy at the Center on Budget and Policy Priorities in Washington.
There may even be a "budget saver" that ripples through to municipalities as well: the Obama proposal includes $25 billion to extend a program that has the federal government picking up an increased share of Medicaid expenses. If adopted by Congress, the program would be extended through the end of 2011.
"That has to help big states and cities," says Mr. Horney. "New York, for example, has one of the biggest Medicaid programs so I would think there would be a significant amount of money for New York State."
New York Gov. David Paterson (D) said in a statement that the aid would help mitigate the effect of the cuts proposed in his state budget to close a $7.4 billion deficit. [Editor's note: The original version of this story listed the wrong state for Governor Paterson.]
Several of Obama's proposals will increase funding for programs that benefit low-income Americans. The Department of Housing and Urban Development, for example, is proposing to increase low-income housing vouchers by $1.4 billion over the 2010 funding level. The department also plans reduce its supportive housing program for the elderly and the disabled, but many of the recipients of those funds will now get housing vouchers instead.
---