Obama calls for $30 billion loan initiative for small business
In Obama's proposal, the money would be taken by small banks, which in turn could loan to small business. The program would be separate from TARP and would be aimed at creating jobs.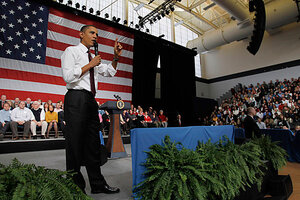 Jason Reed / Reuters
President Obama has proposed a small-business lending initiative designed to help shift America's job-creation engines out of reverse gear.
The idea addresses the problem, in effect, by going back to Square 1 – the financial crisis and the health of banks.
At a town-hall meeting Tuesday in New Hampshire, Mr. Obama called for congressional approval to invest up to $30 billion in small banks – the ones most likely to make loans to small employers. The money, to be taken by banks that voluntarily opt in, would provide capital as seed money for new loans.
A shortage of capital is just one of the obstacles for the economy's flow of credit. The weak economy means that many banks are wary of lending, and many businesses don't even want to borrow. But more capital could help to revive lending, at least to a modest degree, economists say.
"Jobs will be our No. 1 focus in 2010. And we're going to start where most new jobs do – with small businesses," Obama said at the event in Nashua, N.H. "Bank lending standards have tightened, and many small businesses are struggling to get loans."
To give banks an incentive to make loans with the money, the Treasury would ask for smaller dividends on the capital from the banks that make the most loans. Dividends would start at a 5 percent annual rate but fall to as low as 1 percent if a participating bank were to expand its lending by 10 percent this year.
---