Snow hits Illinois primary: how bad weather changes elections
Bad weather may have depressed turnout among Chicago voters in Illinois' primary elections for governor and the Senate seat once held by Obama. Historically, that's good news for Republicans.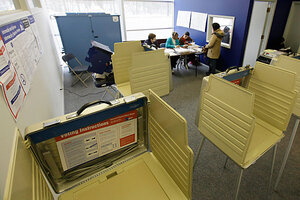 M. Spencer Green / AP
Voters in a closely watched Illinois election primary Tuesday had to stomp through two inches of fresh snow, which may have contributed to a low voter turnout in Chicago – most likely between 30 and 35 percent by the end of the day, according to Chicago election officials.
Despite the predicted low turnout, the election is an important one. The primary for Illinois governor and one of its US senators is seen as a potential indicator of whether the voter revolt that came to a head in the Massachusetts Senate vote last month is likely to continue.
The US Senate seat in play is the one once held by Barack Obama. Sen. Roland Burris, appointed by then-Gov. Rod Blagojevich (who has since been impeached), is not seeking reelection.
Advantage, Republicans
Election day weather can influence political results, according to a study titled "The Republicans Should Pray for Rain: Weather, Turnout, and Voting in U.S. Presidential Elections." The study, compiled by three universities, examined the voting patterns of 3,000 counties between 1948 and 2000.
---