Lawmakers grill Geithner on federal deficits, tax hikes
Lawmakers railed against rising federal deficits as well as proposed tax increases at a House hearing Wednesday where Treasury Secretary Timothy Geithner defended President Obama's budget plan.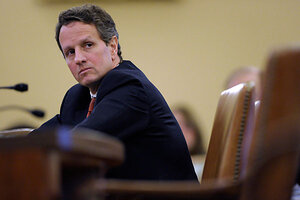 Susan Walsh / AP
President Obama's tax and budget proposals drew tough questions from both Republicans and Democrats Wednesday as Treasury Secretary Tim Geithner testified on Capitol Hill.
Lawmakers from both parties expressed concern about spiraling deficits, and whether proposed tax hikes would hurt the economy.
Mr. Geithner pitched Obama's plan as a three-prong approach: First get the economy growing again. Then impose fiscal discipline with spending restraints and tax hikes. Finally, create a bipartisan commission to make tougher decisions on how to curb federal deficits.
Judging by the questions Geithner faced, lawmakers aren't sold on any of those steps. The Treasury secretary said the administration is ready to work with Congress on the details, and tried to cast the mood of skepticism in a positive light.
"Even though it's a deeply political moment," Congress shows a healthy realism, Geithner said. "People don't say any more, 'deficits don't matter,' " he said. "They don't say any more, 'tax cuts are free.' "
Obama to cut some taxes, hike others
Obama has pledged not to raise taxes on 95 percent of American families. He also pitches new 10-year tax cuts valued at $143 billion for households and at least $93 billion for businesses.
At the same time, his budget also includes a number of tax hikes:
• Letting the Bush tax cuts for the top two income-tax brackets (households earning over $250,000) expire, which will reap $365 billion over the next decade.
• Limiting tax deductions by high earners, to raise $208 billion.
• Boosting the top capital-gains tax rate to 20 percent for high earners, to raise an estimated $105 billion.
• Imposing a "financial crisis responsibility fee" on large financial institutions, to raise $90 billion.
• Raising $122 billion from revising the tax system for global companies and investors, and $39 billion in new taxes on oil and coal companies.
---