Nevada politicians slam Obama's Vegas comment
Nevada politicians, including Democratic Sen. Harry Reid, took umbrage at President Obama's comments about Las Vegas at a town hall meeting this week.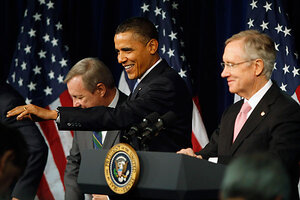 Jason Reed / Reuters
When President Obama travels to Nevada later this month to stump for embattled Senate majority leader Harry Reid, he's likely to get the cold shoulder in Las Vegas.
Obama rubbed quite a few Nevadans the wrong way Tuesday when he suggested rolling the dice on the Vegas Strip wasn't the wisest move "when you're trying to save for college. You prioritize. You make tough choices. It's time your government did the same."
Perhaps that's not such bad advice. After all, who would suggest gambling with your college tuition?
But the comment didn't sit well in a city that banks on tourists coming to "blow a bunch of cash," as Obama put it at a New Hampshire town hall meeting. Nevada has the second highest unemployment rate in the country (13 percent) and the highest foreclosure rate. The gaming and convention industries have been hit hard, too.
Annual gaming revenues are down 11 percent overall, although the Las Vegas Review-Journal recently reported that casinos saw an increase in November for the first time since December 2007, with winnings totaling $873.2 million.
Senator Reid, who faces a tough reelection bid and sagging ratings, criticized the comment.
"The President needs to lay off Las Vegas and stop making it the poster child for where people shouldn't be spending their money," he said in a statement.
Obama was quick to offer this apology to Reid, one of his chief political allies in Congress.
"I hope you know that during my town hall today, I wasn't saying anything negative about Las Vegas. I was making the simple point that families use vacation dollars, not college tuition money, to have fun. There is no place better to have fun than Vegas, one of our country's great destinations," he wrote in a letter to the senator.
---
Follow Stories Like This
Get the Monitor stories you care about delivered to your inbox.