Obama exhorts Democrats to learn from Massachusetts defeat
At a meeting Wednesday, President Obama took questions from Democratic senators seen to be vulnerable in the midterm elections. The event gave candidates a chance to vent voter anger – and Obama a forum to respond to it.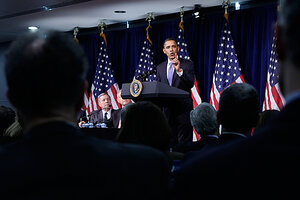 Pablo Martinez Monsivais / AP
On the eve of the swearing-in of Scott Brown as the 41st Republican senator, President Obama on Wednesday tried to rally Senate Democrats worried that they might lose their midterm elections – and sometimes got an earful in return.
In a choreographed but not scripted meeting – the president did not use a TelePrompter – Senate majority leader Harry Reid recognized the most embattled senators in the caucus to ask questions before television cameras. It gave Democrats and the president an opportunity to say to angry swing voters: We get it.
Even before last month's Massachusetts Senate election, Democrats faced the prospect of losing seats in the House and Senate. Historical trends show that the president's party typically loses seats during the first midterm election.
But Senator-elect Brown's win in liberal Massachusetts – for the seat once held by Sen. Edward Kennedy – showed how deep voter disaffection with the current government went as unemployment tipped 10 percent and Washington was seen as focusing elsewhere. The result set off alarm bells among Democratic senators seen as the most vulnerable in 2010 elections.
---