Senate Democrats: we will move fast on job creation
Senate Democrats have been consulting within their own ranks to develop job creation ideas. They want to pass a bill by Feb. 12.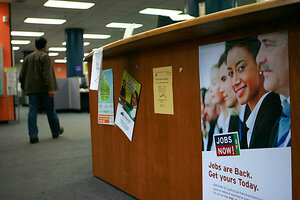 Robert Galbraith / Reuters
After a year of hearings, markups, and closed-door negotiations on healthcare reform, Senate Democrats aim to move their next top priority – a jobs agenda – in just over a week.
That means the first procedural vote as early as Monday and final passage by Feb. 12, when the Senate breaks for a week.
"For Senate Democrats, creating jobs is Job No. 1," said Senate majority leader Harry Reid at a briefing Thursday.
Democrats began briefing staff Thursday on a 500-page bill that includes a vast array of programs and tax extenders, some of which has bipartisan support. But Senate Republican leader Mitch McConnell isn't committed yet to allowing the whole bill to move forward.
With the swearing-in Thursday of the Senate's 41st Republican, Scott Brown of Massachusetts, Democrats fall below the 60-vote threshold needed to move legislation. They now need at least one Republican vote to avoid procedural roadblocks.
Democrats have been consulting within their own ranks since early January to develop ideas that will create jobs fast.
---