'Tea party' movement: Who are they and what do they want?
Tea Party Nation convention starts Thursday. Questions and answers about the tea party movement and how it might affect the 2010 elections.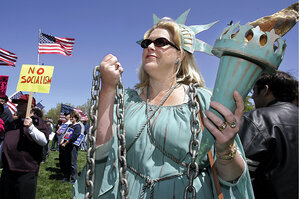 Paul Sakuma/AP/File
Of all the protest signs at all the rallies and town-hall meetings where people gathered last year to object to Washington's plans to save the US economy and reform healthcare, this hand-lettered one is memorable: "You can't fix stupid, but you can vote it out."
That's the "tea party" movement in a nutshell.
The left paints the movement as a largely white and middle-class mob – and as including kooks who equate President Obama with Joseph Stalin.
There's some truth to that view. But where some see a bunch of white people standing in the way of progress, others see a growing expression of dissatisfaction with what former Massachusetts Gov. Mitt Romney (R) calls the "neomonarchists."
Ahead of the Tea Party Nation convention in Nashville, Tenn., slated for Feb. 4-6, here's a look at the tea party movement – its birth, its leadership, and its aspirations.
When – and why – was the tea party movement born?
CNBC editor Rick Santelli's on-air "rant" last February about a proposed mortgage bailout is widely considered to be the "big bang" moment for the birth of the movement.
---
Follow Stories Like This
Get the Monitor stories you care about delivered to your inbox.