Sen. Blanche Lincoln fights for her political life
As a 'Blue Dog' Democrat, Sen. Blanche Lincoln of Arkansas has often sided with Republicans. But that's left Democrats grumbling and the GOP thinking she's an easy target in the 2010 elections.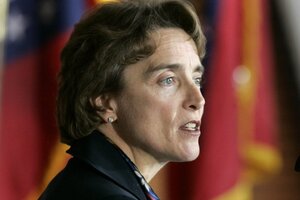 Danny Johnston/AP
By all accounts, Sen. Blanche Lincoln of Arkansas is one of the most endangered Senate Democrats facing reelection – so much so that Republicans are lining up to challenge her.

On Saturday, US Rep. John Boozman jumps into the crowded GOP primary field – the 10th candidate – in hopes of defeating Senator Lincoln in November. In some polls, Representative Boozman already leads Lincoln by double digits. Even lesser-known candidates have large leads against her. A poll this week shows Lincoln with a 27 percent approval rating – bad news for an incumbent.

"Lincoln continues to trail most of the GOP candidates and her job numbers remain anemic," says Jennifer Duffy, a senior analyst at The Cook Political Report. "She was forced to push back on rumors about two weeks ago that she would retire because her poll numbers are so weak."

During her two Senate terms, Lincoln has strived to be a fiscally conservative Blue Dog Democrat. She hails from a state that has a Democratic statehouse and congressional delegation, but that historically votes Republican in presidential elections. In the 2008 presidential race, Barack Obama lost Arkansas to Republican John McCain by 20 percentage points.
---