Sarah Palin hints at presidential run in 2012
GOP superstar Sarah Palin said in an interview Sunday that she was open to a presidential bid in 2012, and that President Obama wouldn't win if elections were held today.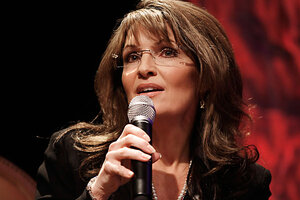 Ed Reinke / AP
Will she or won't she?
On Sunday, former Alaska governor Sarah Palin (R) fueled speculation about a potential presidential bid when, after a rousing speech at the Tea Party convention Saturday night, Ms. Palin told Fox News Sunday that she hasn't "closed the door" on a 2012 run.
"I think that it would be absurd to not consider what it is that I can potentially do to help our country," she said, when asked whether she would consider running for president in 2012, adding, "I don't know if it's going to be seeking a title though."
She would make a bid, she said, if she believed "that that is the right thing to do for our country and for the Palin family. Certainly, I would do so."
Also supporting the idea she's considering a presidential run: Palin now receives daily e-mail briefings on domestic and foreign policy from a group of Washington advisors.
In her 2008 campaign, she was widely derided for not being sufficiently knowledgeable on policy, especially foreign policy.
On Sunday, she told Fox News's Chris Wallace she was more knowledgeable now on these issues. "My focus has been enlarged," she said. "So, I sure as heck better be more astute on these current events, national issues than I was two years ago."
Following an energetic speech that had the audience at the National Tea Party Convention cheering, "Run, Sarah, run," Palin's Sunday interview had political analysts upping the chances that she would take on President Obama in 2012.
---