Scott Lee Cohen bows out of Illinois lieutenant governor race
Scott Lee Cohen dropped out of the Illinois lieutenant governor race Monday at the urging of the state Democratic Party, after revelations that Cohen was once arrested for domestic abuse.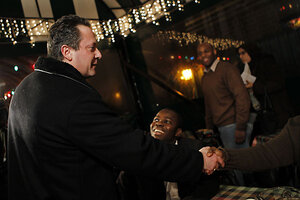 Scott Strazzante / Chicago Tribune / AP
At the urging of the state Democratic Party, Illinois lieutenant governor candidate Scott Lee Cohen resigned from the race Sunday, leaving open questions about the vulnerability of incumbent Democratic Gov. Pat Quinn.
Mr. Cohen, who owns a family pawnbroker's shop and campaigned as an outsider, won last week's state primary but his victory was tarnished once it was revealed he was arrested in 2005 for domestic abuse and failed to pay back taxes and child support.
Democratic Party leaders worried that Cohen's record would make Governor Quinn, who stepped in after former Gov. Rod Blagojevich was impeached last year, vulnerable in the November election.
"There is uncertainty that if I continue to run that the Democrats will win in November," Cohen said Sunday at a tavern in the city's Far North Side. "Many people came out to support me when I announced. The Democratic Party didn't, but many people did. This is the hardest thing that I've ever had to do in my life."
Quinn is not out of the woods yet, political analysts say. The two leading Republican candidates for governor are facing a possible ballot recount and depending on the outcome of that race, Quinn may face a migration of Democratic voters upset by how the party has treated Cohen.
"Quinn's a little vulnerable," says R. Craig Sautter, a former campaign consultant for Quinn. "Cohen was elected by the voters and in a certain sense he represents a part of the Democratic coalition of hardworking people who made their mistakes in life and who don't [appreciate] professional politicians."
---