Obama optimistic about jobs bill after bipartisan meeting
President Obama met with leaders of both parties Tuesday to move forward one of his key objectives: a bill designed to stimulate job creation. Democrats have said they would like to pass a jobs bill by Feb. 12.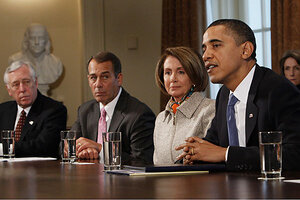 Pablo Martinez Monsivais/AP
President Obama voiced optimism Tuesday on one of his key short-term objectives: getting a bill through Congress designed to accelerate job creation.
The Senate is in bipartisan talks "as we speak," and quick action is possible, Mr. Obama told reporters after meeting in the morning with lawmakers from both major parties. But he added that the bill "may not include all the things I think need to be done."
With congressional elections coming up this fall, dealmaking across party lines looks to be difficult on many issues this year. Jobs could be an exception, given the urgency of unemployment as a voter concern.
Still, the two parties have differing ideas on how to stimulate job growth. And with the Democrats' recent loss of a 60-vote Senate supermajority, dealmaking has become decidedly tougher for the president. "It may take a series of incremental steps," involving trust-building across party lines, to get more of his jobs plan passed, Obama said.
He expressed hope that the Senate can agree on eliminating capital-gains taxes for investments in new firms.
And where he has proposed a $5,000-per-job tax credit for firms that hire new workers, it appears possible that a bipartisan Senate deal will center around another incentive for employers.
Sens. Charles Schumer (D) of New York and Orrin Hatch (R) of Utah have proposed a break from Social Security taxes in 2010 for employers when they hire someone who is unemployed.
---