'Charlie Wilson's War' would be harder to fight these days
Rep. Charlie Wilson, the east Texas Democrat who died this week, directed millions of dollars in covert funding to help mujahedeen fighters oust Soviet troops from Afghanistan in the 1980s. But efforts at government transparency in budgeting would make that more difficult today.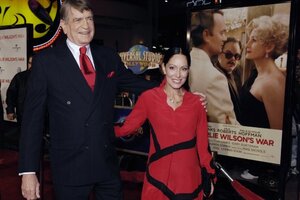 Chris Pizzello/AP
To most of his House colleagues, Rep. Charlie Wilson (D) of Texas, who died Wednesday, was best known for a swashbuckling style, an easy wit, and a talent for moving government funds to causes that mattered to him – whether to constituents in East Texas or to the anti-Soviet fighters in Afghanistan.
The "liberal from Lufkin" – a tag from his years in the state legislature – was out of sync with his conservative electorate on issues like abortion rights, which he supported, but made up for it by winning federal dollars for his district.
From his perch on the powerful House Appropriations Committee, he built a clinic for veterans, expanded the Big Thicket National Preserve, and won job-creating Pentagon contracts. But he will be most remembered for the vast funds he directed, mainly covertly, to anti-Soviet rebels in Afghanistan, including Osama Bin Laden.
Stinger missiles for mujahedeen fighters
---