White House to security critics: We are tough, just like Bush
As Republicans continue their unrelenting criticism of the Obama administration's national security measures, the White House points out similarities to the Bush era. But that raises Democrats' hackles.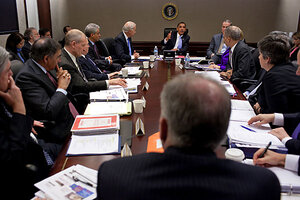 Pete Souza/White House/AP
It's midterm election season, and Republicans are reviving a tried campaign mantra: that Democrats are weak on national security, especially terrorism.
Historically, Democrats start out at a disadvantage on this issue.
But outcries over the administration's handling of the Christmas Day bombing attempt, proposed terrorist trials in Manhattan, and the planned closing of the Guantánamo Bay detention center have put the White House even more on the defensive.
For weeks, the attacks – including from GOP moderates who typically stay out of partisan firefights – went largely unanswered.
That's changing. While Barack Obama campaigned to change direction on issues such as the interrogation and treatment of detainees, the response to the GOP onslaught is to highlight continuity with Bush-era practices.
"The most important thing for the public to understand is we're not handling any of these cases any different than the Bush administration handled them all through 9/11," President Obama told CBS News on Feb. 7.
The response poses risks for the White House that cut across the electorate. For Republicans, it's too little, too late. For Democrats, a move to align policy with Bush-era practices doesn't fit the promises of the 2008 presidential campaign.
---