Does 'tea party' populism verge into extremism?
Ties between the tea party movement and the patriot movement could diminish the impact of conservative protesters. But seeing the tea party solely as a fringe movement has already cost the Democrats dearly.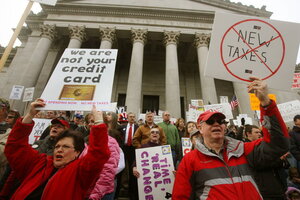 Steve Bloom/The Olympian/AP
Evidence of growing ties between the quasi-libertarian "tea party" movement and supremacist "patriot" groups has the blogosphere all-a-Twitter after The New York Times ran a long story on the topic Tuesday, datelined rural Idaho.

Judging by scorn heaped on the article from both the right and the left, NYT investigative reporter David Barstow may well have hit the issue pretty squarely on the head.

"The Tea Party movement has become a platform for conservative populist discontent, a force in Republican politics for revival … [b]ut it is also about the profound private transformation of … people who not long ago were not especially interested in politics, yet now say they are bracing for tyranny," Mr. Barstow wrote.
Hints of racism and extremism
While painting the tea party movement as embodying angst and displeasure at Washington, the story also hints at charges of racism and extremism that trouble – and, frankly, scare – some Americans.

The article gives rise to questions about the true nature of the movement: Is it racist? Violent? Xenophobic?
---