Evan Bayh: Indiana Democrats need to find a replacement fast
Sen. Evan Bayh's last-minute announcement that he won't run for reelection means state party leaders will have to find a candidate. In Indiana, whoever that is will have to be a relatively conservative Democrat who can work with Republicans.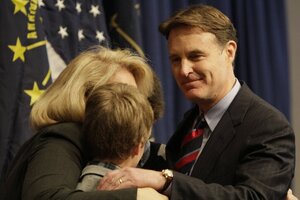 AJ Mast/AP
The surprise announcement that Sen. Evan Bayh (D) of Indiana will not run for another term is forcing state Democrats to find a replacement with similar appeal – and they want to do it fast.
"They're kind of scrambling," says Brian Vargus, who teaches political science at Indiana University. "The Democrats are trying to pick the strongest person they can."
That person needs to be especially tailored for Indiana, a state where Democrats win only when they are fiscally conservative, move to the center on divisive issues like healthcare and taxes, and show they can work with Republicans – as Mr. Bayh did when, as a two-term governor, he created legislation with a majority Republican state Senate and House.
"Bayh is no flaming liberal. [His replacement candidate] is going to have to look like a moderate-to-conservative Democrat and will have to stand against Washington and [President] Obama," says Mr. Vargus.
Democrats frequently vote Republican
The choice is crucial because Indiana voters are not as divided by political party and will easily vote Republican if they feel the Democratic choice is unfamiliar or suspect on the issues.
---