Can Obama's deficit commission work, as partisanship rages?
Obama created a deficit commission Thursday that includes both Democrats and Republicans. But the move comes during an election year rife with mistrust and political maneuvering.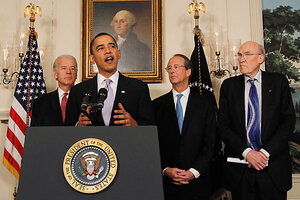 Jason Reed/Reuters
President Obama created a commission on Thursday designed to fix America's fiscal mess. The question is, can that mess be fixed without first bridging the yawning political gap that divides Democrats and Republicans in Washington?
A troubling sign is visible from the get-go: The president had to set up the commission on his own, naming a Republican and a Democrat to lead it, because a bipartisan measure in the Senate a few weeks ago failed to muster the needed votes.
Mr. Obama said that fast-rising federal debt is forcing Washington to confront the issue and that a bipartisan commission is the best hope for doing this. Many outside experts agree with this assessment, but Obama's move comes during an election year rife with mistrust and maneuvering across the congressional aisle.
"I hope congressional leaders in both parties can step away from partisan bickering and join ... this effort," Obama said.
He named Alan Simpson, a former Republican senator from Wyoming, and Erskine Bowles, who served President Clinton as White House chief of staff, to chair the commission. The 18-member panel would have eight Republicans and 10 Democrats. Obama is asking Republican leaders in the House and Senate to name six members and their Democratic counterparts to name six. Obama would name four more, including one more non-Democrat.
---