Like Dr. Evil, did the GOP just steal Obama's mojo?
Tea partiers and RINOs mingle at energized CPAC convention. President Obama's policies have galvanized conservatives, but will the GOP have the answers that key independents want to hear?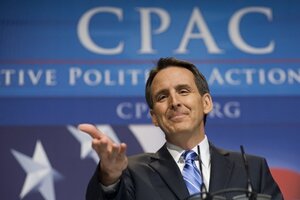 Cliff Owen/AP
They are brought together by a single tantalizing feeling: President Obama has in their eyes gone from hero to zero in a short 13 months, meaning Democrats are running scared ahead of the 2010 mid-term elections.

Meeting at a giddy Conservative Political Action Conference (CPAC) in Washington, conservative activists and presidential hopefuls are painting a picture of a party in resurgence.
"[Obama] had more mojo than any president that I remember when he was inaugurated a year and a month ago.… But now, the master-mesmerizer has lost his mojo," Rep. Steve King (R) of Iowa told about 1,000 attendees at the annual conference. "And if we stand our ground as constitutional conservatives, he's not going to get it back." [Editor's note: The original version of this paragraph listed the wrong US representative.]
But if Republicans are playing the role of Dr. Evil stealing Austin Power's mojo, there's always the concern that Obama can, in fact, steal that elusive something-something back in time for the closing credits, er, the 2010 mid-term elections.
Can independents be drawn in?
---