Retiring senators: Why are so many calling it quits?
Twelve senators so far have opted not to run again, the second-highest number of retiring senators in 75 years. Among their frustrations: the Senate's increasingly partisan climate.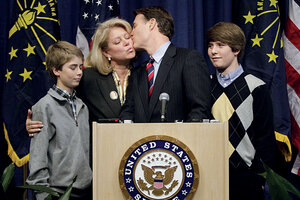 AJ Mast/AP
"I do not love Congress."
Call it the shot heard round the Capitol. With a $13 million war chest and a lead in the polls, Sen. Evan Bayh (D) of Indiana appeared on track to reelection – until he decided that he'd had enough of what the Senate had become.
"I am not motivated by strident partisanship or ideology," he said at a Feb. 15 press conference.
Later, in a phone interview with the Monitor, Senator Bayh elaborated. "Our politics has almost become tribal, with the different political tribes bent on destroying their adversaries," he said. "It's a constant quest for political power that renders its effective use impossible once you've attained it."
To date, 12 senators have announced retirements – the second-highest number of Senate retirees in 75 years. The high-water mark was 13 departures in 1996.
Click to see photo gallery of retiring senators
As in years past, some departing senators, notably Christopher Dodd (D) of Connecticut and Jim Bunning (R) of Kentucky, faced long odds in their reelection bids. Had the numbers lined up differently – or had their respective party leaders been willing to invest resources to shore up their reelection bids – they could have fought for another six-year term.
---